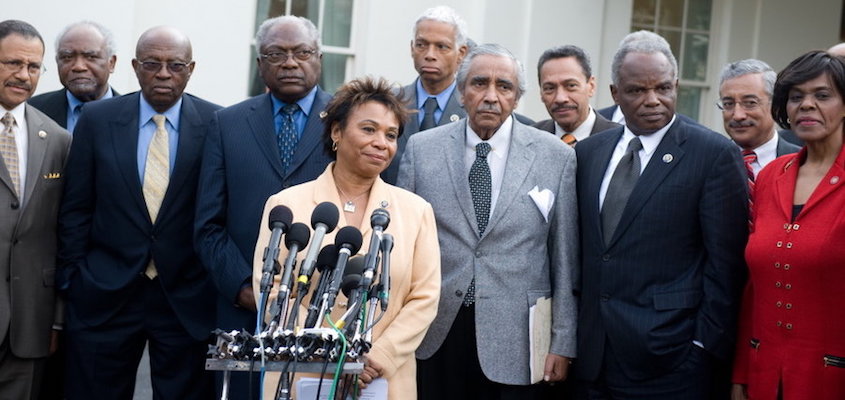 Source: HamptonThink
The Black Community is an internal colony within America. We have a Perpetual Foreigner status and are treated as such. We are socially, politically, educationally, and economically deprived. We have no self-determination. Where there is institutional racism, there is colonization. U.S. Imperialism affects black people abroad just as much as it does at home, and it is sustained in one fundamental way: Black Politicians. Black Politicians are the faces of white supremacy in the black community. They uphold the same structures that we need to dismantle under the guise of them having to "play ball," which they claim will lead to "useful" compromise. That approach only benefits the individual and not the entire race. Black Politicians are colonial masters. They are indirect rulers and one of the biggest roadblocks to Black Liberation.  
Black Visibility does not equal Black Power. Just because we have black people that look like us in office or in power doesn't mean that it will benefit us. Just because you have a Black face on a white-supremacist system doesn't mean that white supremacy is over. It has just adapted to the conditions of society. Take the state of Mississippi, for example. Mississippi has the most black politicians in office. Yet, the state still has one of the highest poverty rates, one of the lowest education ratings, worst healthcare systems, and more than half of our renters are at stake of homelessness because of Covid-19. If we have a black person in power implementing the same policies that the white people are implementing, then that representation has no worth to us. What is good for America does not equal what is good for black people. That representation is only worth something to the white-supremacist structure which benefits from the facade of progress by placing a black face on racism and oppression.
Black Politicians are the same as the indirect rulers that were in colonies during the Scramble for Africa. They come to us saying that they "see us, hear us, and are going to do something about it." Then they get into office and say that they can't speak up about an issue plaguing the black community because if they speak up, they will be ousted from the club. They claim that they won't have a seat at the table anymore. That shows you the fundamental problem right there. Black Politicians don't really exercise any real power for the community. They are more interested in their individual wealth and comfort than actually fighting for any real change. They are no more than puppets that, instead of being loyal to the constituents that put them into office, are loyal to a political party. They are more worried about personal status than changing the status quo.
Take the Congressional Black Caucus, for example. The Congressional Black Caucus is dominated by politicians who are more worried about their corporate interests and filling their pockets than actually representing the Black Community's interests. Take the race of Jamal Bowman and Eliot Engel. Jamal Bowman was a black progressive candidate running against the incumbent Eliot Engel, who is a moderate white politician. In this race, the CBC decided to endorse Eliot Engel instead of Jamal Bowman. This example right here goes to show you what the goal of black politicians is to protect the status quo of the White Supremacist Capitalist Patriarchy. They are elected to do the bidding of the ruler. Same as colonial masters. They co-opt revolutionary language to benefit the goals of neoliberalism.
Look at Jim Clyburn, who was a Freedom Rider and participated in the civil rights movement. When young, he put in work and likely had revolutionary tendencies and thoughts. His effectiveness, though, after being brought into the Democratic Machine, has gone to waste. He no longer articulates the ideas and needs of the black community. What he does now is silence black radical thought and dissent. Take for instance what he said about the protest happening around Defunding the Police. He stated that "Nobody is going to defund the police." That statement is very disingenuous, seeing that most of the protesters are calling for defunding if not abolition. He is doing his job as a colonial master. He is watering down the movement and trying to subside the black masses by getting us to settle for incremental change instead of fighting to dismantle current systems of oppression.
Joe Biden picking Kamala Harris as his running mate displays this indirect rule the most. Right now, we are going through a global uprising against policing and prison systems, with people advocating for the abolition of both. During this time, Joe Biden decides to choose a candidate who is known for criminalizing black and brown bodies by keeping innocent people in jail for labor, defending the three-strike system, withholding police misconduct information, defending the death penalty, defending prosecutors falsifying confessions, and a myriad of other things. This shows you the logic of the Democratic Party. They see black people as political pawns who they can manipulate into giving their undying support to the party by just nominating a black woman as Vice President without substantial policy promises. And this strategy has worked. People who were calling for the abolition of police and prisons in June and July are now the same people supporting the Vice Presidential pick of Kamala Harris.
In Black Power, Kwame Ture quoted Machiavelli in saying, "And here it should be noted that a prince ought never to make common cause with one more powerful than himself to injure another unless necessity forces him to it.… for if he wins you rest in his power, and princes must avoid as much as possible being under the will and pleasure of other." This is the reckoning that the Black Community has to have because when we hear talks about "harm reduction," what harm is actually being reduced. Bombs are still going to be dropped, people are still going to get shot by police, people will still be in jail under both presidents. Harris is deliberately being used to sideline the discussions of real change that we need because we have a black face as the possible second-in-charge of the oppression. We had a black face as the head of America for eight years, and the black community's situation did not get better. Black Lives Matter started under his presidency, and he was hesitant to speak about it, let alone offer substantial change. The Flint Water Crisis was under his presidency, and he didn't provide any substantial change. Not to mention, he dropped 72 bombs a day on the Global South and helped coordinate the outright destruction of one of Africa's most prosperous nations in Libya. Black faces in high places are just brokers of White Supremacy sold with the guise of progress.
We don't need Colonial Masters and empty representation. It's not about having a Black person in a position of White Supremacy. We need new institutions in place and new systems that will actually bring about change. Black people are not politically, socially, and economically depressed because of our character or work ethic. Black people are politically, socially, and economically depressed because we are a colonized community. The indirect ruler does not make any colonized situation better. It is just cheaper and easier than having white men run everything in the colony. If we ushered an end to colonization, then we would have an end to our economic serfdom, exploitation, and oppression. We have just as much right to self-determination and freedom than any other colonized group has, and having Black faces doing the bidding of the White Supremacist Capitalist Patriarchy is not the way to achieving that liberation and freedom.